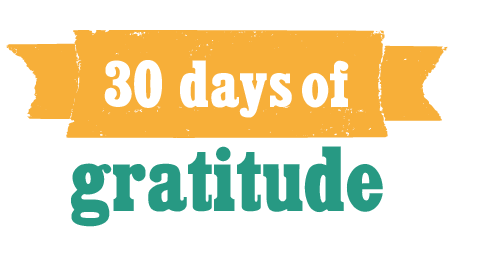 (image from One Little Mama)
When I started this project, I worried that I'd find something to talk about every day. Now I'm having a hard time narrowing my list down. So today I thought instead of trying to come up with something in one topic, I'd do a random bullet list today. I'll try to keep it about the little things instead of the obvious (family, friends, health, etc. ;))
I'm grateful that even though Logan was sobbing when I went to leave, Ms. Tori calmed him down and got him to work on a project before I left.
I'm grateful that my son loves me so much that he wants me to leave a little mark on his hand in marker every day. This way when he looks at it he knows I'm thinking of him. :)
I'm grateful for some time last night to craft. I'm putting together a December Daily album this year (first time paper scrapping one). I love that I'm ahead of the game for once and prepping in advance since December is always so crazy!
I'm grateful for some quiet time at work where I don't have to work long hours. Although I am getting bored quickly! :)
I'm grateful for a husband that is an amazing father!
I'm grateful to have my Christmas cards already ordered and checked off my list. :) Of course I still have to write them out!
I'm grateful for the time and money to be able to go visit my new baby nephew next week. I CAN'T WAIT to hold that little guy!
I'm grateful for friends that want to continue our cookie and handmade gift exchange every year. It's one of my favorite holiday traditions!