We traditionally enjoy a delicious breakfast in our house on Christmas morning. After all, odds are if you have little ones you'll be up at the crack of dawn anyway! There were some delicious ideas floating out there that I thought I'd share.
1. Cinnamon always reminds me of Christmas for some reason. So these
cinnamon swirl pancakes
from the
Idea Room
would be perfect (and pretty!).
And to complement those pancakes, some
brown sugar bacon
would be divine! I didn't think bacon could be improved upon, but it looks like that might be the case with these instructions from
Babble
.
2. Or how about dessert for breakfast? It's Christmas after all! I'm thinking this
breakfast apple granola crisp
from
smitten kitchen
would be fantastic!
3. If savory is more your breakfast deal, this
Bacon Tomato and Cheddar Breakfast Bake with Eggs
recipe from
Noble Pig
has been haunting me. How beautiful is this breakfast?
However, we usually opt for the type of breakfast you can prep the night before. That way we can pop it in the oven and enjoy watching the kids open gifts while it cooks up! (OK, who am I kidding, Mom and my sister get it in the oven while the rest of us are still waking up!)
4. Our usual Christmas morning fare is a batch of easy caramel rolls that rise overnight. Here's
a recipe for easy overnight caramel rolls
from the
Tasty Kitchen
site. (sorry, no pic).
5. But this year, we are trying something different! We are planning to make this
Bagel and Cheese Bake
, which can be prepped the night before! YUM! We'll let you know how it turns out.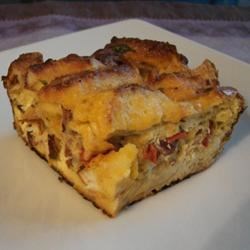 So, I'm curious. Do you have any Christmas breakfast recipe traditions?