I believe I've expressed my blog-love for Julie's
Joy's Hope
site before, but just to reinforce, she has some great ideas (and cutie pie babies!). I also blame her for my new
fabric obsession
love for sewing.
In November she posted this beauty and I was in love.
(click image to find
Joy's Hope
scarf along posts)
I conned my two fabric friends (you know who you are!) to do some shopping to participate. I picked some fabric that was outside of my norm to do some experimenting (when did you last know me to wear pink and orange?).
Then Julie posted this!
I was still working on my
first quilt
and had all these beautiful rectangles left from every strip I cut into blocks. Then I found a plain fleece scarf at JoAnn's and was inspired.
It was far from perfect. The fleece puckered (should have cut off the edge hem). But I loved the fabrics (I'd hope so, I was making a whole quilt in them!) and it looked cute with my brown coat so I wore it for a while. But Julie's scarf along still called to me. It seemed so easy. And really it was (I made the cozy version). I have a few left to piece together, but aside from the pom poms (which were a little challenging) the rest was easy enough for this beginner!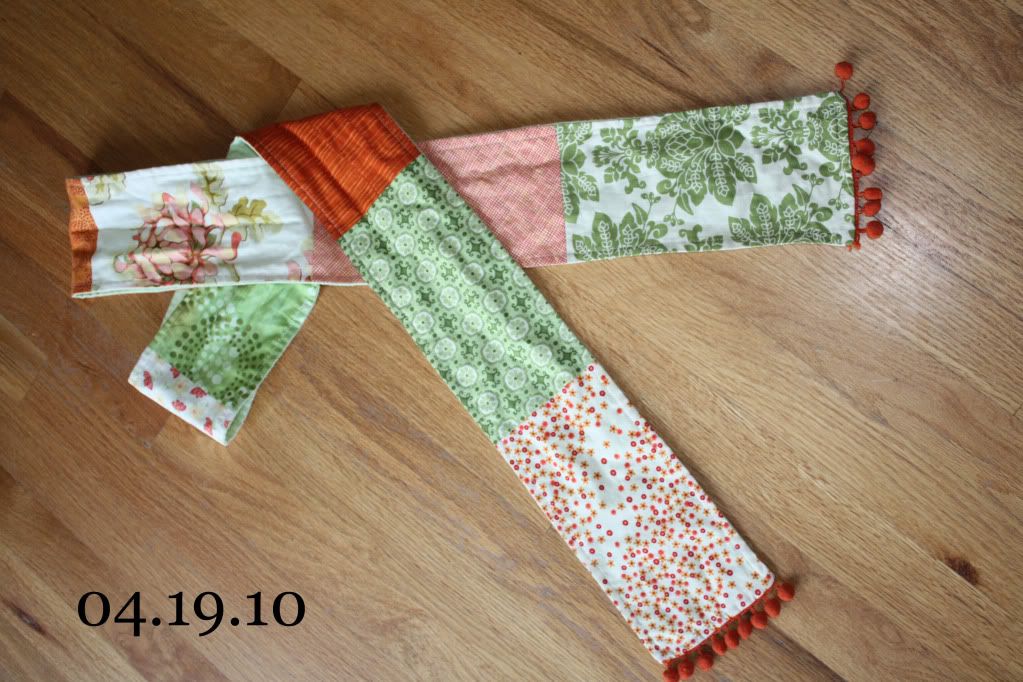 But then Logan was jealous. So I took some cute flannel and made this little number. And although Julie's tutorial is super easy, this one could not have been easier. Took me longer to pick out the flannel. But he loves it.
So there are my three scarves. Or really 11. Because Julie's pattern makes 8 (I missed that from the original post and didn't notice until I started cutting the fabric!). Now I have to find 4 other people who want one just like mine (I've already given away 3!). Any requests?
By the way, one of my fabric friends gave me one she made for my birthday. I LOVE the colors! She made it with fleece and it worked out great (just don't use a premade scarf!).